Things Change...Your Exhibit Should, Too
Trade shows and corporate events represent huge opportunities for marketing managers and their teams. They offer a chance to directly connect with key audiences, deliver your best marketing messages, and differentiate your business amidst a sea of competitors.
Packing all that into a few days is a big challenge, and one you'll likely spend months preparing for. When the big day comes, you'll want to know that your exhibit is as dialed in as you and your team are.
When looking for a new exhibit, one of the first questions you'll come across is whether to rent or buy. We believe that booth ownership isn't right for anyone, ever. Why? Because things happen. Budgets change, goals evolve, companies rebrand.
With a custom rental exhibit you can be flexible, adapt and benefit from those changes instead of getting sidelined by them. Here, we'll showcase the pitfalls of booth ownership and explain the benefits of a more flexible model.
Here's what you'll find on this page:
"I need a trade show booth, what now?"
No matter what your event goals are, one of the first questions you should ask is whether you want your exhibit to be permanent or flexible. Believe it or not, there isn't much of a difference in the quality or capabilities of a permanent vs. custom exhibit rental. Here's how they compare:
Permanent Exhibits
Buying a booth comes with a substantial up-front investment. In most cases, companies that purchase a booth must use it for three to five years in order to justify the start-up costs. During this time, companies are responsible for managing and paying for all of a booth's shipping, handling, storage, setup, teardown, maintenance, and repair logistics. These costs typically add up to about 10-20% of the total booth cost, and are incurred on an annual basis.
Custom Exhibit Rental
More and more companies are choosing to rent their trade show booths because they're more affordable, more flexible, and easier to manage than an owned booth. A major concern with rentals is the notion of not being able to make any cosmetic changes to your booth once it's produced, but that couldn't be further from the truth. With a flexible exhibit rental, you can change your booth for every show you attend, and your fee includes all logistical support, and support during the show. In most cases, a custom exhibit rental costs about 70% less than an owned booth.
Making The Decision
When deciding between permanent and flexible trade show booths, there are a number of things you should consider. Things like on-site support, maintenance and repairs, and your overall investment are important to keep in mind when making a decision. Here's a quick breakdown of what you can expect with each option:
| | Permanent | Flexible |
| --- | --- | --- |
| You own the booth elements | X | |
| Decreased up-front investment | | X |
| Flexibility to change design between shows | | X |
| Includes on-site support | | X |
| No ongoing fees for shipping, handling, and logistics | | X |
| No worrying about maintenance and repairs | | X |
| Fully customizable | X | X |
| No paying for storage fees | | X |
Understanding the Potential for Permanent Disasters
Permanent exhibits trap you in the same design for years unless you want to pay for costly renovations. To help illustrate how that commitment can lead to problems down the road, here are a few examples we've seen of things that have gone wrong:
Over Budget on Setup
A large healthcare company decided to purchase a booth and budgeted $200,000 for the project. After working with designers, the booth was delivered and the healthcare company started preparing to take it to the show. That's when they got hit with a surprise.
The logistical costs associated with setting up the booth were far higher than they ever anticipated. They had to spend an additional $75,000 just to get their brand new booth set up. But that wasn't all.
After the show, the sales team reported the booth to be a failure. It didn't suit their needs and they wanted to go back to the old booth, which had already been discarded. Now, the company was stuck with a booth they couldn't afford to set up and didn't want to use. Ultimately, the project was a total waste, and they had to start over.
Restriction Debacle
One of the most effective ways to draw attention to your booth is to maximize its height with high walls and big hanging signs. So, when a company set out to purchase a new booth, they went big with a $600,000 design that towered above the show floor.
Shortly after, one of the venues that hosted a show the company planned on attending changed its rules and restrictions. One of those rules imposed lower limits on the maximum height of exhibits. The company was stuck. They had to make a choice: cancel their attendance at the show or shell out tens of thousands of dollars for modifications.
When you buy a permanent booth, you're committing a lot of money to the notion that nothing is going to change. But marketing doesn't work that way. It doesn't move at a glacial pace.
Budgets, goals, restrictions, rules, brands, and slogans are changing on a regular basis. A custom rental gives you the chance to keep up with those changes where a permanent booth only bogs you down.
The Benefits of Renting
A flexible exhibit gives you the opportunity to create the perfect booth for the best price, at every event you attend. It allows you to maximize your exhibit's marketing potential, eliminates the stress associated with operations and logistics, and guarantees that you don't go over budget on expected fees.
Marketing Benefits
The most effective marketing campaigns capitalize on a specific moment. Each event you attend represents one of those moments. If you're approaching that opportunity by dusting off a booth you've owned for three years, you're missing out.
Owning a booth restricts your brand's ability to be as flexible as the market you're trying to impact. By opting for a flexible exhibit, your brand can design for the moment.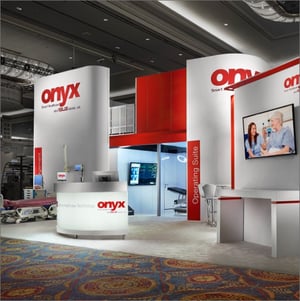 Exhibit Sustainability Did you know the trade show industry generates 600,000 tons of waste each year? A big portion comes from owned booths that are used once or twice and then tossed in a dumpster. By getting a flexible exhibit, you can proudly align your booth with your existing sustainability practices.
Operational Benefits
When you own a permanent booth, it's your responsibility to coordinate shipping, storage, and handling. At your event, instead of training staff or prepping for last-minute client meetings, you'll have to manage labor teams to construct your booth. All of these operational demands can make exhibiting far more stressful than it needs to be.
A flexible booth eliminates the stress associated with exhibit logistics by providing you with awesome support, every step of the way. Here's what your exhibit supplier should provide:
All shipping, handling, storage, maintenance, and repairs
Booth setup and teardown
Stellar on-site support
With these logistical needs met, you can focus your time and attention on executing your marketing message and enjoying the event you worked so hard to prepare for.
Financial Benefits
Everyone wants to get the most out of their marketing dollars. The only way to do that with a permanent booth is to keep using it for years and years, hoping you never need to alter anything or make repairs. Even then, every time you use it, you're risking unexpected fees.
We believe a flexible exhibit makes more financial sense for everyone, at every show they attend.
Here's why:
Per show costs are significantly lower than a permanent booth, whether you exhibit once a year or every month
Operational costs are included in your price, so you're never hit with unexpected fees
You have total flexibility to change your design or size between shows to reflect changes in your budget
Plus, because a flexible booth includes all your operational and logistical support, you can get a fixed, guaranteed price from your exhibit supplier. Your exhibit house should provide you with a comprehensive and inclusive invoice so you know exactly what you're paying to use your booth.
What's Possible with a Flexible Booth?
Some people believe you can't actually get a custom look with a flexible exhibit. The reality is that exhibit houses actually have everything they need to create a booth that's fully custom to your needs for every show.
Want proof? Check out these examples of custom trade show rentals.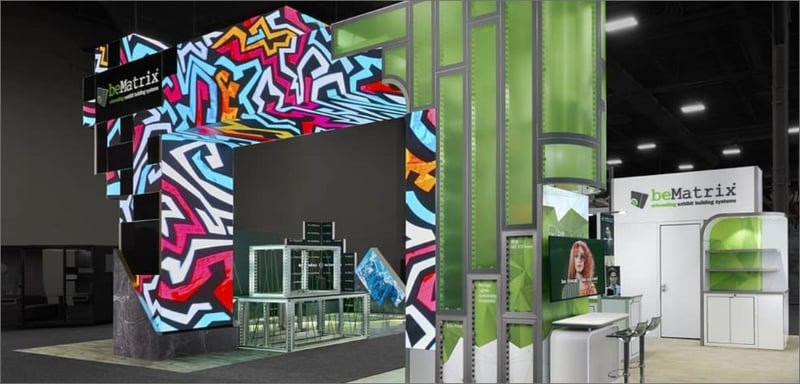 beMatrix
We collaborated with beMatrix to create an exhibit that was lauded by judges at ExhibitorLIVE 2018 for its aisle-spanning arch, inviting feel, and innovative use of space. It took home the 'Best of Show' Award.
To pull off the design, two spaces that were directly across from each other were connected using an overhead arch. To add eye-catching impact to the arch, it was covered with a cutting-edge LEDskin® that allowed for stunning visual displays.
And, because the booth spanned an aisle on the show floor, traffic flow was maximized. Once inside, attendees were introduced to beMatrix products through engaging product demos.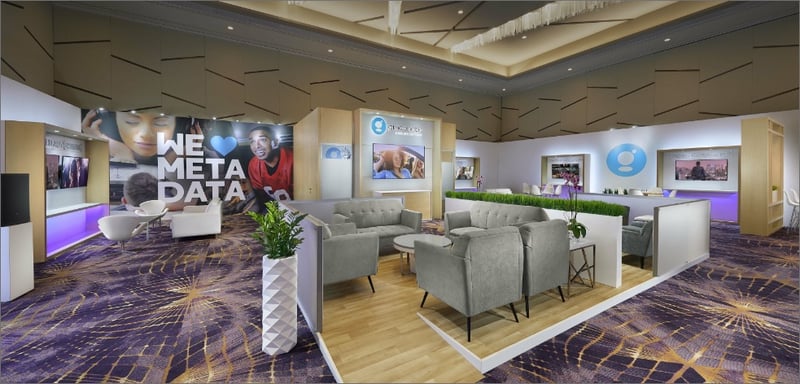 Gracenote
Gracenote needed lots of product demo areas to showcase its wide range of automatic content recognition technologies. They specialize in music, sports, and entertainment, so we decided to create a casual meeting space for each.
Each product station included a high-top table, comfortable stool seating, and a big A/V display. Beyond the demo stations, an open floor plan and edge-lit letters rounded out the sophisticated design they used for CES 2019.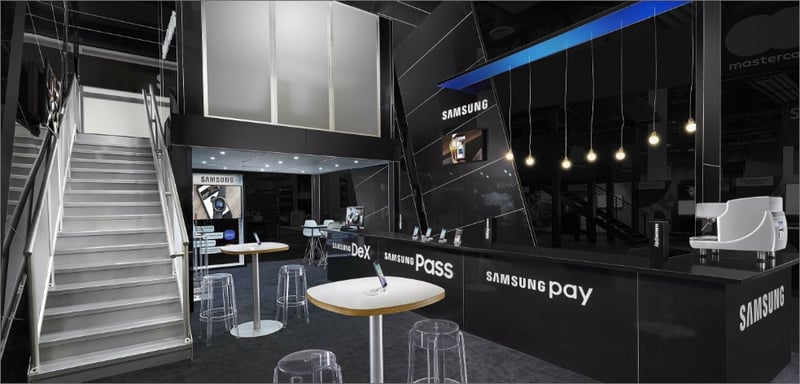 Samsung
For Money20/20 in Vegas, Samsung came to us with a few significant challenges. They were on a tight budget, and they needed a design that could be built in a day, instead of the usual timeframe of 2-3 days.
To facilitate a quicker decision-making process, we worked directly with Samsung headquarters in South Korea. With clear communication and our proven design process, we found a way to deliver a two-level exhibit that set up in a single day and aligned with their budget.
Questions to Think About as You Move Forward
Interested in a flexible exhibit for your next event? Learn more about the design process, pricing, and how to choose the perfect exhibit house by checking out the links below.
Got more questions? Check out our resource page to find informative articles, handy checklists, and case studies that illustrate the potential of a flexible trade show booth.
Conclusion
Here's the bottom line. When you opt for a custom trade show rental, you're getting the perfect booth for the perfect price, every time. With a custom exhibit rental, you can:
Maximize your marketing potential by customizing your booth to your current strategy and your audience
Eliminate unexpected fees by getting an affordable booth with
guaranteed pricing that's inclusive of all associated logistical costs
Reduce stress by letting awesome support teams handle everything, from shipping and handling to storage and maintenance, so you can focus on the show
It's hard to ignore the benefits of a custom rental. That's why more and more businesses are ditching booth ownership. Learn more about the industry-wide switch by checking out our resource The Essential Guide To Custom Trade Show Booth Rentals - download it here: